Environmental Protection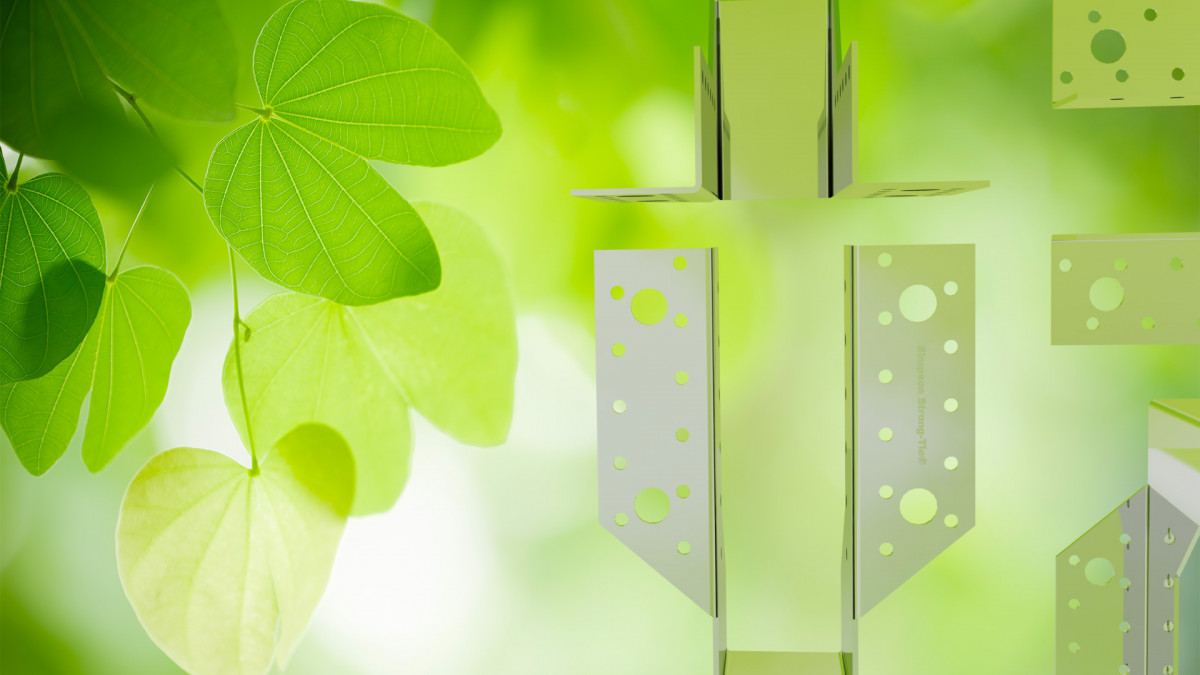 At Simpson Strong-Tie® we strive to reduce pollution and energy consumption generated by site activities. By taking this role very seriously, we are committed to creating a healthier and more sustainable environment every day.
Our environmental policy

Simpson Strong-Tie's commitment to respecting the environment is driven by the following main principles:

We will comply with all applicable laws and regulations and implement programs and procedures to ensure compliance.
We will develop and comply with our own environmental requirements, going beyond regulations, to ensure environmental protection.
We will do our utmost to limit risks and protect the sites where we operate, through the use of reliable technologies and operating procedures. We will employ management systems and procedures specifically designed to avoid activities and situations presenting a risk to the environment.
We will prepare to react in the event of a dangerous situation and will put in place adapted responses to the various emergency situations that we could be confronted with while anticipating plans for the resumption of our activities.
We will strive to control our emissions into the atmosphere, into the ground or into groundwater and waterways. We will minimize the amount and toxicity of waste generated by our operations and ensure its safe and compliant treatment and disposal.
We will ensure that our suppliers comply with the requirements of applicable laws and regulations and that their responsible behavior reflects compliance with environmental rules. As part of our supplier assessment process, we will look at their environmental situation. If this assessment indicates the existence of inadequate or unsafe practices for which no improvement is envisaged, we will refuse to do business with them.
We will communicate our commitment to the environment to our associates, suppliers and customers. We will engage them to achieve our environmental goals and in turn help them achieve theirs.
We have the ambition to continually seek to improve our operations and our impact on the environment. Management will set improvement targets in areas that require them and monitor their effectiveness and implementation

Consumption and recycling

Steel is the main raw material used in the production of Simpson Strong-Tie ® connectors . The percentage of recycled steel present in the steel used in the manufacture of our products is 18%.

The other raw materials used to package our products - cardboard, blister pack, pallet film, label - are largely recyclable, and partner suppliers are also committed to limiting their impact on the environment. Simpson Strong-Tie works in conjunction with printers who ensure that the paper, used for Simpson Strong-Tie catalogs and other literature, is PEFC and FSC certified. These two certifications attest to compliance with environmental criteria for the production of paper, as well as sustainable forest management.

The sorting policy carried out directly on our site allows the recovery of 95% of the waste produced since 2013. Simpson Strong-Tie ® has managed to reduce by 30% ordinary industrial waste (DIB) in the space of six years, and hazardous products (DIS) by 50% over the same period.

Energy management

An energy diagnosis of our production site is carried out regularly to measure the origin of electricity consumption. The implementation of measures is underway to reduce office consumption.

Simpson Strong-Tie has invested in new generation equipment following the expansion in 2010. The surface area of ​​the site has doubled but gas consumption has only increased by 16%.

Water is not taken into account in the production process and has only a sanitary use, which does not generate polluting discharges. Despite the expansion of the site and the increase in the number of employees, consumption remains stable.

Regulatory conformity

Our production site complies with the ICPE regulations (Classified Installations for the Protection of the Environment) on sound emergencies from its production plant and performs the mandatory checks. In addition, Simpson Strong-Tie invests every year to perfect the production process, by silencing its noisy machines and improving the working comfort of its employees.

The emissions present in the air caused during the manufacturing process are filtered before any release into nature. The used filters are then collected with the hazardous waste.

Going beyond regulatory requirements, Simpson Strong-Tie ® has built its plant on retention in order to avoid any pollution of soil and groundwater in the event of a fire. It is thus possible to recover polluted fire extinguishing water for regulatory reprocessing.

Continuous improvement of products

The work of all our internal teams contributes to the continuous improvement of our products: 

Our Research and Development department works to develop products using fewer materials for equivalent technical performance.
Our Tooling department develops tools that make it possible to produce parts with as few machine strikes as possible, thus limiting energy consumption linked to their production.
Our Purchasing department favors local purchases and establishes lasting relationships with its suppliers.