Fastenings for Connectors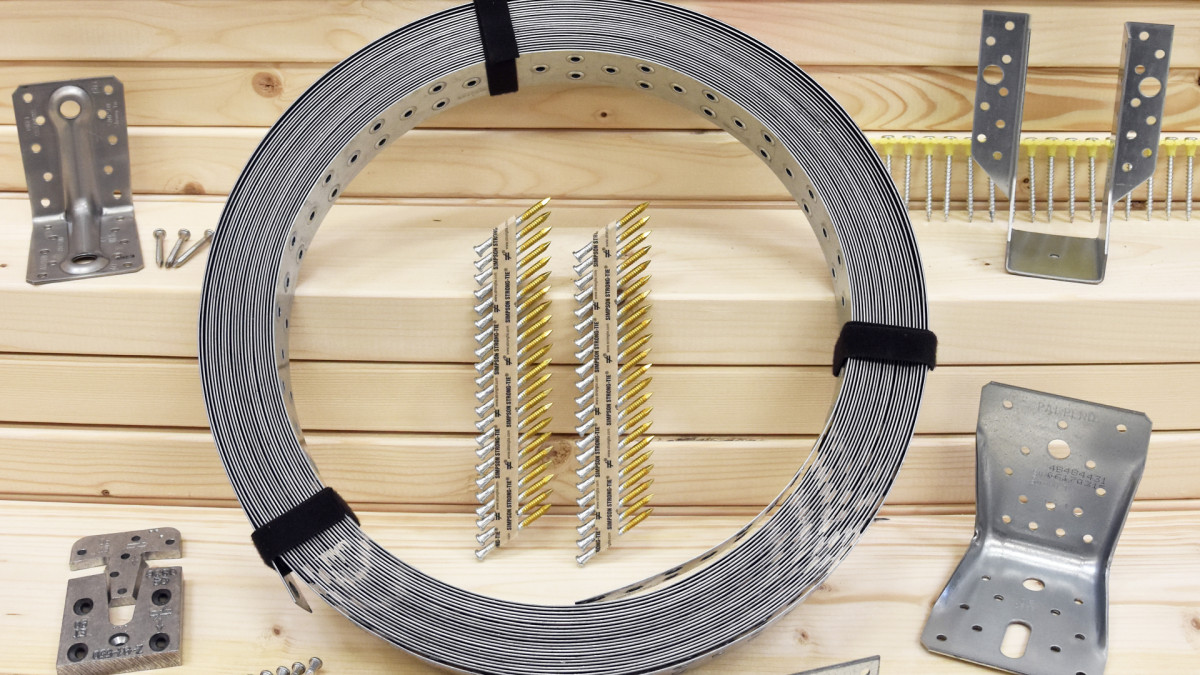 Using the right fasteners is essential. Here's why.
Building fittings from Simpson Strong-Tie are designed to help you build stronger and safer constructions. In our catalogs and on our website, we declare the load-bearing capacity values ​​of our fittings for each of the different applications where they are applicable. Engineers use these load-bearing values ​​when specifying which products and materials are to be used for the structures.

However, in order for these load-bearing capacity values ​​to also be transferred to the actual construction, it is important that the brackets are installed with the fasteners from which the calculations are made and that they are installed according to the specified nailing patterns. All this information can be found in our catalogs.

Together, the fasteners and brackets create a system where the various parts cannot be replaced. So if you want to be sure that you are able to document the load-bearing values ​​for the structures you build, then it is essential that you use the right fasteners for your brackets.

Fastening solutions for professionals and for DIY
Whether you are a craftsman, semi-pro or do-it-yourself, our range of fasteners for fittings ensures that you can always find a good solution for the construction you are building.

Time-saving solutions!  SSH and SSF screws make it possible to install brackets with fewer screws per bracket and thereby spend less time on installation.

Stainless steel  - Our CNA bracket nails and CSA bracket screws are available in stainless steel A4. Always use stainless steel fasteners to install stainless steel building brackets to avoid galvanic corrosion.

Create a beautiful finish!  Our range of black lacquered fittings can be installed with the black lacquered CSA-PB fitting screws, which ensure an aesthetically pleasing finish.

Tested and approved fastening solutions for installation of Simpson Strong-Tie structural connectors into timber

We offer a wide range of building fittings for load-bearing structures and as long as you use our nails and screws to fasten them with, we provide documentation and approvals as security. Together, our fasteners and brackets create a system that helps you ensure the strength of your joints as well as the safety of the structures you build.

We always offer recommendations for which of our fasteners will be best suited for our fittings. Parameters such as application type, environment and load requirements all play a role in how we find the associated fastener, in the appropriate length, diameter and finish. For example, always make sure to match the metal type and surface coating of the fastener to the bracket to be fastened, as mixing different materials and coatings can create what is called galvanic corrosion.

The fact that we thoroughly test our fasteners and fittings together as a system gives you the assurance that they will perform under even the toughest conditions. We strive to ensure that our products comply with the latest European requirements for construction products.

The quality and diversity of our product lines give engineers and builders greater freedom to design flexibly, while offering reliable and proven performance. In addition, customers can rely on our specialized local technical support centers with experienced product experts and tailor-made training programs.

The characteristic values ​​declared in our catalogs and on our website have been determined by testing and the characteristic value has been calculated in accordance with EN14358 for use in boundary state calculation, cf. Eurocode 5.