CLT & Mass Timber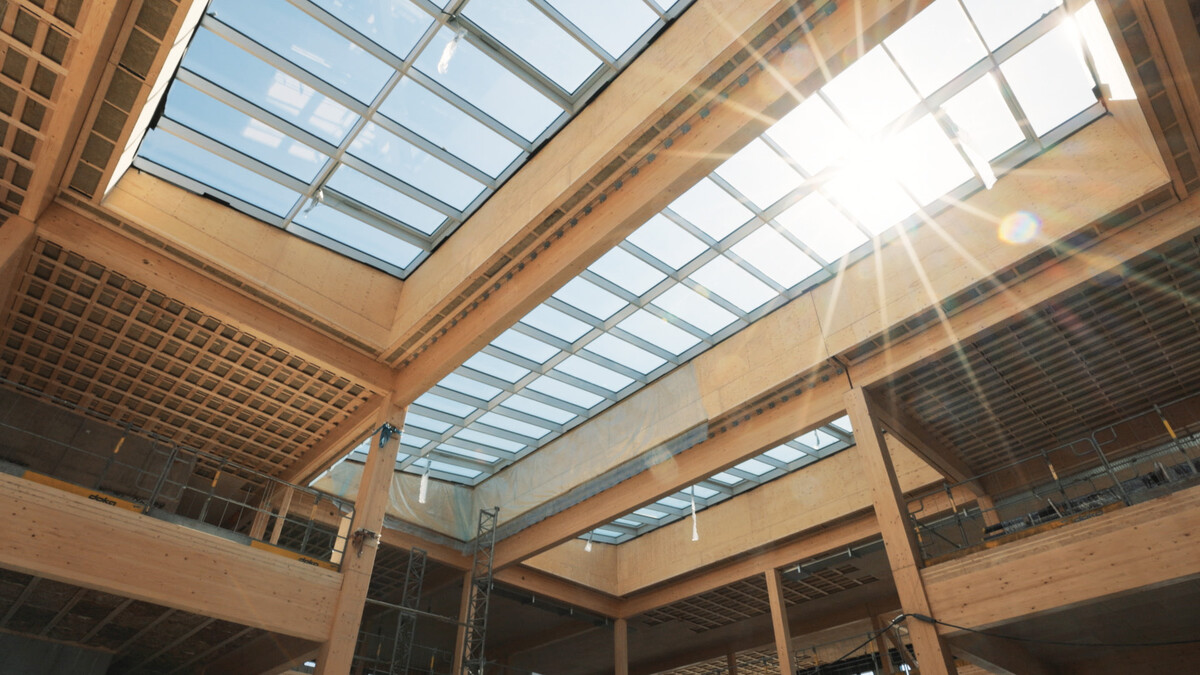 Bringing a Legacy of Service and Innovation to Mass Timber

With over 60 years of leadership in structural engineering, Simpson Strong-Tie is proud to offer smart solutions for CLT and mass timber. Embracing the challenge, we're leveraging our dual passions of service and innovation to meet this industry's unique demands.

Nature Inspiring Technology

In this short film, NCC Production Manager, Mads Seirup Rasmussen explains:

"I am standing at a construction site in Odense. It is called the Cobot Hub. The special thing about this construction is that the primary building material is wood, both in terms of columns, beams and CLT panels. The connections of the CLT panels to the beams are made with structural screws supplied by Simpson Strong-Tie and specified by our engineer and timber supplier.

The screws, that are 360mm in length are screwed vertically down into the beams. The structural screws fully comply with our expectations. Not least because we don't have to pre-drill, which is a big benefit that makes our job significantly easier.

Since I started my search for these structural screws, I have had a regular contact person with Simpson Strong-Tie, whom I made great use of. I have been able to get the needed screws and when we needed more special screws, they have been very helpful in order to deliver quickly. And even though they might not be in stock locally, they have supplied them form Germany.

For me it has been nice to know that when I make an order, the screws are supplied within a short timeframe.

Simpson Strong-Tie and Seismic Testing

Simpson Strong-Tie is proud to have collaborated on the National Science Foundation funded NHERI TallWood test, a groundbreaking initiative to develop resilient seismic design methodologies for tall timber buildings in earthquake-prone regions. 

Led by the Colorado School of Mines alongside a consortium of universities, this project simulated a series of large seismic events and their effects on a full-scale, 10-story mass timber building using the world's largest outdoor shake table at the University of California in San Diego, and it is the tallest building ever tested on a shake table. The tests mimic motions recorded during historic earthquakes covering a range of earthquake magnitudes, from magnitude four to magnitude nine.

Fast, accurate and safe product specification

Solid Wood is our latest web-based calculation tool that helps consulting engineers, building designers etc. with finding and documenting the right fastening solution.

The program is easy to use, and makes it easier to understand and specify the right solutions, based on e.g. the density of the substrate, the characteristics of the material, the category of corrosion and the load. In 4 simple steps, Solid Wood finds a concrete fastening solution that is suitable for the specific project. The specifications can be printed out and used as documentation.

Documentation according to Eurocode 5 (EN 1995-1-1)
Faster and easier than hand counting
Wood-wood / steel-wood / plate-wood joints
The program creates a PDF report which can be used to document the project.

Links

The Simpson Strong-Tie® Difference

Making the connector is only the start of the journey. We guide our products all the way to their ultimate place in a construction project. From new-builds to renovations, a Simpson Strong-Tie connector takes with it bespoke design services, on-site technical support and industry leading customer and after-care service.